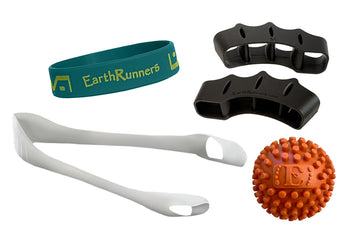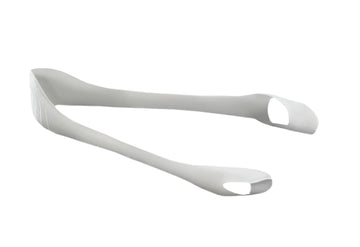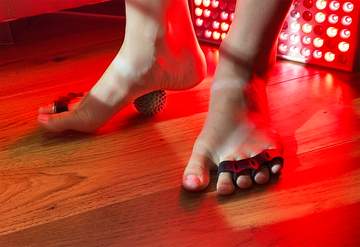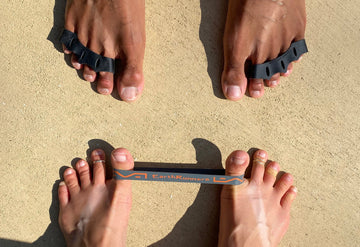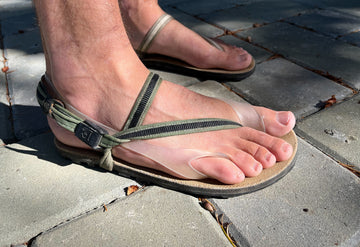 Ship Date
Order within
Ships
This kit comes with a suite of our four favorite foot restoration tools that help assist in the process of rewilding your feet back to their natural state. 
1. Toe Spacers
A simple yet powerful foot health tool to help stretch the connective tissues of your feet–which shorten over time due to anatomically unnatural footwear. >>Find Your Size<<
Increase circulation to the toes

Promote balance and proprioception

Restore natural toe splay and alignment
Reduced friction, abrasion and irritation between toes

Pain Relief from hammertoe, bunions, overlapping toes, and impacted feet.

Active-Wear Design: Our toe spacers can be worn barefoot or with any compatible footwear while trail running, practicing yoga, or while chilling at home.
2. Foot Rub Restoration Ball
Using ancient acupuncture techniques, the Earth Runners Foot Rub Restoration Ball applies pressure to relax muscles, reduce tension, and increase circulation. Simply roll the massage ball under your feet and the numerous stimulating fingers of the massage ball will provide soothing relief for sore muscles and stimulate circulation.
Doctor recommended for relief from Plantar Fasciitis. Rehab your muscles and fascia by kneading the bottom of your foot and strengthening your foot muscles.
Control pressure and direct the depth of massage to help ease tension and induce relaxation. Bring it everywhere you go and use Foot Rub at home, in the office, on a plane. Perfect for sore feet, aches and pain, plantar fasciitis, & arthritis.
3. Resistance Band Big Toe Stretcher  (Teal/Green color)
A useful tool for stretching and strengthening of the big toes, the Resistance Band helps correct misalignment as a result of deformation from narrow toe box shoes.
Reduces toe and foot discomfort.
Alleviates tension, stretches and aligns toes.
Increase circulation; straighten bent toes.
Bunion Correction (Hallux Valgus Correction)
Retrain the muscle memory in your big toes.
4. Toe Expanders
With a wrap-around design, our Toe Expanders are perfect for those suffering from both big toe bunions and pinky toe bunions (tailor's bunion/bunionette). The expanders work by placing gentle pressure on your toes, helping to realign them over time.

The expanders are easy to use and come in a set of two. Simply place one loop around your big toe, route the band around your heel, and place the second loop over your pinky toe. The expanders can help to relieve pain at the base of your toe joints during walking, reducing the pain caused by hallux valgus.

Not only are these Toe Expanders effective in correcting bunions and misalignments, but they are also comfortable to wear all day long. You can wear them with your favorite Earth Runners sandals or other minimalist footwear of choice.

Integrate these tools into your foot care regimen on a regular basis to regain your inherent foot mobility, shape, and range of motion while restoring function and reducing pain.
We proudly donate 1% of all sales to True Messages, a non-profit focused on honoring the running heritage of the Tarahumara culture and supporting the youth of the community.
Shipping
Your order will ship out via USPS within 3-7 business days of receiving it. All orders placed by Monday 7am Pacific will be shipped Thursday. Orders placed by Thursday at 7am Pacific will ship Monday. Any changes to your order must be requested within 48 hours of placing your order.
All sandals are made to order in our Sonoma County workshop. *Please note we cannot guarantee changes made to your order 24 hours after it has been placed*
Domestic:
First Class Mail

cost $3-5 and takes 3-5 days for delivery from ship date.

Priority Mail

(flat rate) cost ~$7 and takes 2-3 days for delivery from ship date.

Priority Mail Express

(flat rate) cost $22.38 and takes 1-2 days for delivery from ship date.
International:
We ship worldwide with Delivered Duty Paid (DDP) shipping options to help avoid unpredictable customs fees and shipping delays. Shipped via FedEx, DHL & postal mail, taxes & duties included. Learn more here.

DDP Priority: average 9-14 day transit time.
DDP Express: average 7-10 day transit time.
DDP ePacket (Canada only): average 9-12 day transit time.
*shipping costs are estimated based on the weight of 1-3 items
1% Donation
Earth Runners are inspired by ancient huarache running sandals. We are grateful to the Tarahumara for originating this design and feel fortunate to have the ability to give back and honor the creators of the huarache running sandal.
We donate 1% of all sales to True Messages, a non-profit focused on honoring the running heritage that remains so important to the Rarámuri culture. True Messages listens to the input of the local National community to determine where to allocate resources which includes sponsoring races, trail projects, and initiatives to support the youth of the community.

Thank you for helping us support the Tarahumara!