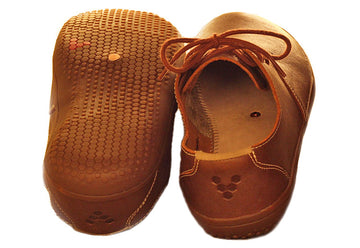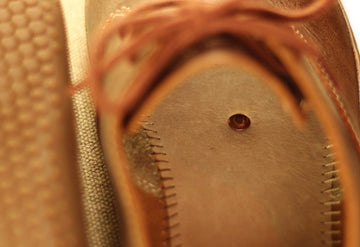 Ship Date
Order within
Ships
The Shoe Sync is an earthing shoe DIY (Do It Yourself) Kit comes with everything you need to turn your existing minimalist shoes into grounded footwear. With this easy to install kit and a hammer, anyone can transform their existing thin soled shoes (½" thick or less) into conductive footwear--to utilize the health promoting benefits of connecting with the Earth!

In this kit you will receive a combination of five different tools and conductive materials. The detailed documentation instructs you how to install a copper rivet through the optimal location in the sole of your shoes to make contact with your foot and the ground simultaneously.
Shoe Sync: Maintain Your Primal Connection
Shoe requirements
Must have less than a 1/2" thick dense sole.
Must be able to unlace shoe to access the insole with tooling.
Tools required
What comes in the (1 pair) kit
rivets x2
washers x3
hole punch / rivet installer
cutting board
long neck wire cutters
Instruction, testing & more
Refer to our FAQ tab on this page.
We proudly donate 1% of all sales to True Messages, a non-profit focused on honoring the running heritage of the Tarahumara culture and supporting the youth of the community.
Shipping
Your order will ship out via USPS within 3-7 business days of receiving it. All orders placed by Monday 7am Pacific will be shipped Thursday. Orders placed by Thursday at 7am Pacific will ship Monday. Any changes to your order must be requested within 48 hours of placing your order.
All sandals are made to order in our Sonoma County workshop. *Please note we cannot guarantee changes made to your order 24 hours after it has been placed*
Domestic:
First Class Mail

cost $3-5 and takes 3-5 days for delivery from ship date.

Priority Mail

(flat rate) cost ~$7 and takes 2-3 days for delivery from ship date.

Priority Mail Express

(flat rate) cost $22.38 and takes 1-2 days for delivery from ship date.
International:
We ship worldwide with Delivered Duty Paid (DDP) shipping options to help avoid unpredictable customs fees and shipping delays. Shipped via FedEx, DHL & postal mail, taxes & duties included. Learn more here.

DDP Priority: average 9-14 day transit time.
DDP Express: average 7-10 day transit time.
DDP ePacket (Canada only): average 9-12 day transit time.
*shipping costs are estimated based on the weight of 1-3 items
FAQ

How DIY earthing shoes test via voltmeter
FAQ
Can I use the kit if my shoes have insoles?
Yes, just install the rivet through your insoles.
Are my grounded shoes still effective if I wear socks?
Yes, here are what our voltmeter tests have shown:
Grounded shoes + bare feet ~ 100%
Grounded shoes + socks ~ 90%
Grounded shoes + sweaty socks ~100%
Can I order more rivets and washers by themself?
Yes, if you already have the DIY Kit and would like to order more hardware, you can do so here.
Will installing copper rivet allow water to pass through the sole?
No, the compression fitting created from installing the rivet is water tight if installed to the proper compression outlined in the instructions. 
Product Usage Agreement
Earth Runners is not accountable and not responsible for any personal injury caused to oneself or your shoes during product usage or from resulted usage of any products manufactured or (and/or) sold by Earth Runners.
1% Donation
Earth Runners are inspired by ancient huarache running sandals. We are grateful to the Tarahumara for originating this design and feel fortunate to have the ability to give back and honor the creators of the huarache running sandal.
We donate 1% of all sales to True Messages, a non-profit focused on honoring the running heritage that remains so important to the Rarámuri culture. True Messages listens to the input of the local National community to determine where to allocate resources which includes sponsoring races, trail projects, and initiatives to support the youth of the community.

Thank you for helping us support the Tarahumara!