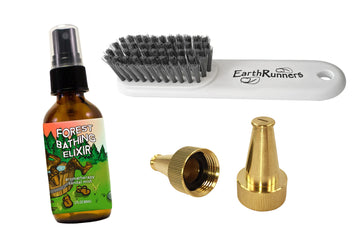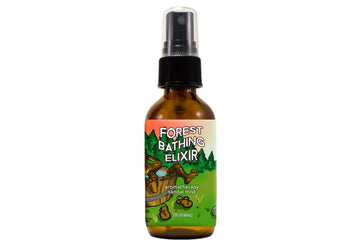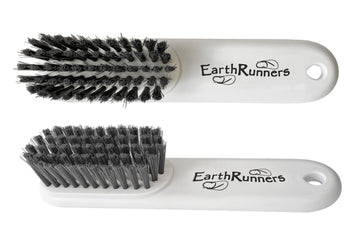 Earth Runners Sandals - Reconnecting Feet with Nature
Ship Date
Order within
Ships
Treat yo' feet to a fresh pair of sandals! Our Sandal Spa Kit comes with everything you need to de-grime and de-funk your Earth Runners.
Sandal odor is a result of sweat and bacteria getting locked into the footbed material. Sandal smells can be best maintained with a regular cleaning in the shower to avoid accumulation of sediment, bacteria, and odor.
 
FOR MAINTENANCE: We recommend taking your sandals into the shower once a week with this sandal scrub brush for a scrub and rinse. We tested several scrub brushes to bring you the best scrub brush size for easy handheld grip, getting in between the laces, and bristle strength & durability. Spritz liberally with Forest Bathing Elixir.
 
FOR A DEEPER CLEAN: Our hose sandal cleaning nozzle attachment offers a deeper clean, which we recommend using once a month to achieve a full cleansing of the footbed material.
 
To keep odor under control: Scrub Brush + Elixir Spritz 1x/week, & Nozzle Deep Clean 1x/month.
SANDAL SPA KIT INCLUDES:
1x Brass cleaning nozzle, 1x Sandal Scrub Brush, 1x (2 oz.) Forest Bathing Elixir.
Forest Bathing Elixir sandal aromatherapy spray embodies the freshness of the forest to clarify your senses & cleanse your sandals with the Essence of the Earth.

Ingredients: Spring Water, Caprylyl Capryl Glucoside, Fir Needles, Juniper, Elemi, Cedarwood, Eucalyptus, Lavender, Patchouli, Mandarin Green

2 fl. oz. (60 mL)
Shake before use.
Skin-safe, but may cause irritation on sensitive skin; not intended for facial application.
Shipping
Your order will ship out via USPS within 3-7 business days of receiving it. All orders placed by Monday 7am Pacific will be shipped Thursday. Orders placed by Thursday at 7am Pacific will ship Monday. Any changes to your order must be requested within 48 hours of placing your order.
All sandals are made to order in our Sonoma County workshop. *Please note we cannot guarantee changes made to your order 24 hours after it has been placed*
Domestic:
First Class Mail

cost $3-5 and takes 3-5 days for delivery from ship date.

Priority Mail

(flat rate) cost ~$7 and takes 2-3 days for delivery from ship date.

Priority Mail Express

(flat rate) cost $22.38 and takes 1-2 days for delivery from ship date.
International:
We ship worldwide with Delivered Duty Paid (DDP) shipping options to help avoid unpredictable customs fees and shipping delays. Shipped via FedEx, DHL & postal mail, taxes & duties included. Learn more here.

DDP Priority: average 9-14 day transit time.
DDP Express: average 7-10 day transit time.
DDP ePacket (Canada only): average 9-12 day transit time.
*shipping costs are estimated based on the weight of 1-3 items
1% Donation
Earth Runners are inspired by ancient huarache running sandals. We are grateful to the Tarahumara for originating this design and feel fortunate to have the ability to give back and honor the creators of the huarache running sandal.
We donate 1% of all sales to True Messages, a non-profit focused on honoring the running heritage that remains so important to the Rarámuri culture. True Messages listens to the input of the local National community to determine where to allocate resources which includes sponsoring races, trail projects, and initiatives to support the youth of the community.

Thank you for helping us support the Tarahumara!