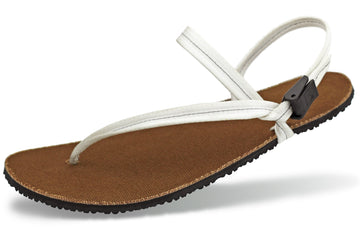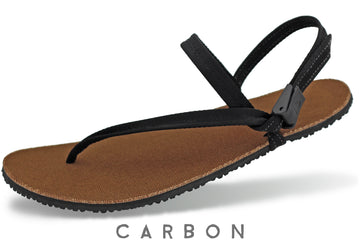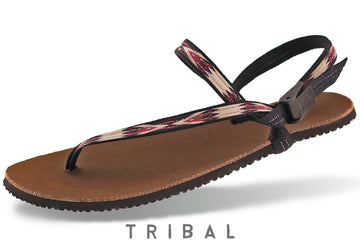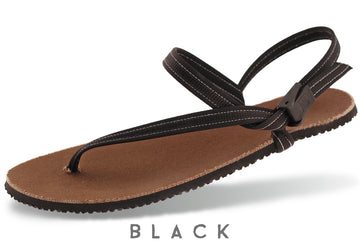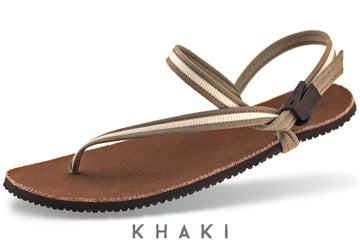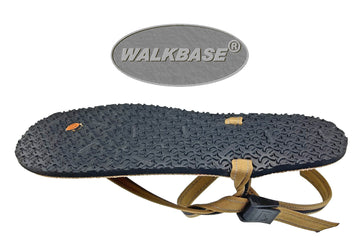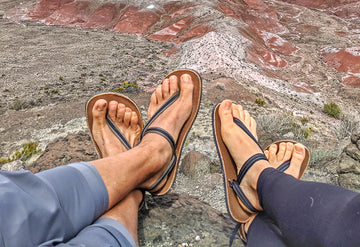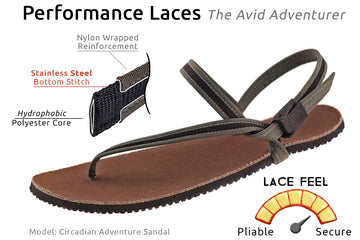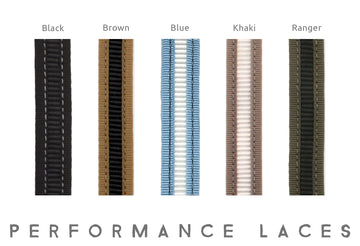 Ship Date
Order within
Ships
The Chronos will keep you secure and in tune with the earth's natural time—at every step. The minimalist nature of Earth Runners sandals offers a gentle reminder to yourself–and others–of the oneness you share with the Earth.
Weight: 5.3 oz (single sandal, men's 9 / women's 11)
Thickness: 7.5mm outsole + 1.5mm footbed = 9mm
Sole:  Walkbase® GumEVA Outsole (Globally Sourced)
Footbed:  Earth Grip 

Moisture-wicking Canvas
GOTS (Organic) Certified Small Batch Dye
Laces:  Performance laces provide ultimate security and longevity on all of your adventures, while the thinner & more flexible Lifestyle laces are ideal for maximum comfort in casual everyday life.
Grounded Conductive Lifestyle Laces™
Three different lifestyle lace constructions available:

1. Ergonomic Lifestyle Laces 
Most pliable lace construction
9/16" Double Tubular Webbing

™

Earthing Plug & single Conductive Stainless Steel (SS) Thread


Colors: Cloud (Single SS), Canyon Clay (Double SS), Sunset (Double SS)

, Carbon

 (Double SS)
2. Classic Lifestyle Laces 
Balanced pliable/secure lace construction

5/8" Mil-Spec Reinforced Two-Ply Webbing - color: Charcoal-lite (a lighter version of our previous Charcoal laces)




1/2" Mil-Spec Reinforced Two-Ply Webbing - color: Tribal




Earthing Plug & Conductive Stainless Steel Thread
3. Performance Laces 
Most secure lace construction

9/16" Wide




1/2" Hydrophobic Polyester Webbing Core




1" Mil-Spec Nylon Reinforcement (Wrapped)




Earthing Plug & Conductive Stainless Steel Thread
Can the Chronos model be worn in water?
Yes, all of our sandals can be worn in water. The Earth-Grip footbed resembles the feel of a mild bare earth equivalent--with superior all weather traction. The 100% cotton footbed will hold some water weight until it has a chance to dry. In comparison, our Elemental model dries much quicker by featuring no Earth-Grip footbed but the trade-off is less effective grip/performance in water.
How does the Circadian Vibram outsole compare to the Chronos Walkbase outsole?

The raw materials for these two outsoles are produced by different companies in different countries but the compound and tread pattern offer a very similar experience underfoot that is indistinguishable to most people.
Why are the Chronos and Circadian the most popular Earth Runners models?
The Earth-Grip footbed provides a comfortable secure experience along with ideal light weight, proprioceptive feel and aggressive traction. These factors work in concert to make the Circadian at home in the backcountry or around town.
Is the Earth-Grip footbed Organic?
The footbed is dyed in small batches using GOTS certified organic dye in Los Angeles California. The fabric itself is not certified organic. The farmers in India who grow our cotton use traditional practices that have been in place for over 100 years--before non-organic fertilizers were introduced.
We laminate the Earth-Grip footbed to the Vibram® outsole using solvent free thermal adhesive. 
Shipping
Your order will ship out via USPS within 3-7 business days of receiving it. All orders placed by Monday 7am Pacific will be shipped Thursday. Orders placed by Thursday at 7am Pacific will ship Monday. Any changes to your order must be requested within 48 hours of placing your order.
All sandals are made to order in our Sonoma County workshop. *Please note we cannot guarantee changes made to your order 24 hours after it has been placed*
Domestic:
First Class Mail

cost $3-5 and takes 3-5 days for delivery from ship date.

Priority Mail

(flat rate) cost ~$7 and takes 2-3 days for delivery from ship date.

Priority Mail Express

(flat rate) cost $22.38 and takes 1-2 days for delivery from ship date.
International:
We ship worldwide with Delivered Duty Paid (DDP) shipping options to help avoid unpredictable customs fees and shipping delays. Shipped via FedEx, DHL & postal mail, taxes & duties included. Learn more here.

DDP Priority: average 9-14 day transit time.
DDP Express: average 7-10 day transit time.
DDP ePacket (Canada only): average 9-12 day transit time.
*shipping costs are estimated based on the weight of 1-3 items
1% Donation
Earth Runners are inspired by ancient huarache running sandals. We are grateful to the Tarahumara for originating this design and feel fortunate to have the ability to give back and honor the creators of the huarache running sandal.
We donate 1% of all sales to True Messages, a non-profit focused on honoring the running heritage that remains so important to the Rarámuri culture. True Messages listens to the input of the local National community to determine where to allocate resources which includes sponsoring races, trail projects, and initiatives to support the youth of the community.

Thank you for helping us support the Tarahumara!