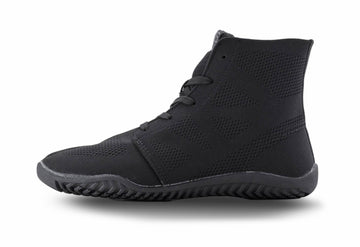 Ion Sync® Sports Jog Tabi
Ship Date
Order within
Ships
Of all the ancient inspired footwear designs we have tested over the years, no enclosed design has tested higher in overall foot health, freedom and functionality than the ancient tabi shoe design. Given its remarkable reputation, no other shoe seemed more worthy of taking our next step in earthing evolution than the top selling Sports Jog 2 from Marugo, a Japanese tabi footwear company.
Our Ion Sync® Sports Jog Tabi takes an ancient split-toe tabi shoe design and combines it with cutting edge conductive polymer earthing technology resulting in a foot-friendly minimalist shoe to facilitate foot strengthening, reduce foot pain, and keep you grounded.
Features:

Upper: durable & breathable woven polyester
Stack Height: 10mm heel & 6mm forefoot (4mm drop)
Outsole: Gummy outsole with 4mm lugs
K1 Grounding Port: 4 Ion Sync® earthing plugs
Width: Medium
Shape: Anatomical design to facilitate toe splay
Specs
Tabi (or Jikatabi) are traditional Japanese footwear which feature a split between the big toe and the rest of the toes to promote flexibility and provide extra security, comfort, and stability.
Together with Marugo our Ion Sync® Sports Jog Tabi take this traditional minimalist footwear design and combine it with Ion Sync Earthing plugs to offer a shoes experience that is the next best thing to barefoot.
Our grounded Ion Sync® Sports Jog Tabi Shoes feature 4 conductive rivets per shoe installed in house by our Earth Runners team. Our Ion Sync 1.0 plugs have a conductivity of <100,000 ohms which allows 60hz EMF induced body voltage to drop by 90-97% as compared to standing on the earth (99% body voltage drop).
Details:

Shoe designed in Japan
Made in China
Ion Sync® earthing plugs are made of a proprietary conductive polymer.
Assembled in USA
Weight: 257 grams - single shoe (Size 27 cm / M9 W11)
Wear with or without socks
Washable
Sizing
| CM | USA | UK | EUR | LENGTH | PRINT |
| --- | --- | --- | --- | --- | --- |
| 23 cm | 3.5-4M 5.5-6W | 3 | 36 | 9" | |
| 23.5cm | 4.5M 6.5W | 3.5 | 36 | 9-1/4" | |
| 24cm | 5M 7W | 4 | 37 | 9-7/16" | |
| 24.5cm | 5.5M 7.5W | 4.5 | 37.5 | 9-11/16" | |
| 25cm | 6M 8W | 5 | 38 | 9-13/16" | |
| 25.5cm | 6.5-7M 8.5-9W | 5.5-6 | 39 | 10" | |
| 26cm | 7.5M 9.5W | 6.5 | 40 | 10-1/4" | |
| 26.5cm | 8M 10W | 7 | 41 | 10-7/16" | |
| 27cm | 8.5-9M 10.5-11W | 7.5-8 | 41-42 | 10-9/16" | |
| 27.5cm | 9.5M 11.5W | 8.5 | 43 | 10-3/4" | |
| 28cm | 10M 12W | 9 | 43 | 11-7/16" | |
| 29cm | 10.5-11.5M 12.5-13.5W | 9.5-10 | 44-44.5 | 11" | |
| 30cm | 11.5-12.5M 13.5-15.5W | 10.5-11.5 | 45-46 | 11-7/8" | |
Warranty
Our 1 year manufacturer's warranty covers failure of the outsole. This includes functional delamination of the sole or Ion Sync® earthing plugs. To submit a warranty claim, email your receipt and photos of the damage to our customer service team to assess the best means of resolution (repair, gift certificate or replacement).
FAQ
Are the Ion Sync® earthing plugs watertight?
Yes, all the earthing plugs are compression fit into the outsole making for a solid rubber seal. Also keep in mind the tabi shoes feature fabric between the toes which is the most likely area for moisture infiltration.

Can you feel the Ion Sync® earthing plugs underfoot?
If you feel for the Ion Sync® plugs you can feel them underfoot but after wearing the shoes for a while they go unnoticed.

Will the Ion Sync® earthing plugs wear out?
The Ion Sync® earthing plugs are recessed and sit flush with the outsole tread at the midfoot so they are well protected. Their resilient rubber composition combined with their strategic positioning exposes them to low wear for max longevity. If they do happen to wear out, they can easily be replaced.

How do I determine how my (short/long) toes will fit into the tabi toe pocket?
We recommend everybody to print out the sizing templates in actual size to compare with your foot to confirm the best fit for your unique foot/toe profile.

Shipping
Your order will ship out via USPS within 3-7 business days of receiving it. All orders placed by Monday 7am Pacific will be shipped Thursday. Orders placed by Thursday at 7am Pacific will ship Monday. Any changes to your order must be requested within 48 hours of placing your order.
All sandals are made to order in our Sonoma County workshop. *Please note we cannot guarantee changes made to your order 24 hours after it has been placed*
Domestic:
First Class Mail

cost $3-5 and takes 3-5 days for delivery from ship date.

Priority Mail

(flat rate) cost ~$7 and takes 2-3 days for delivery from ship date.

Priority Mail Express

(flat rate) cost $22.38 and takes 1-2 days for delivery from ship date.
International:
We ship worldwide with Delivered Duty Paid (DDP) shipping options to help avoid unpredictable customs fees and shipping delays. Shipped via FedEx, DHL & postal mail, taxes & duties included. Learn more here.

DDP Priority: average 9-14 day transit time.
DDP Express: average 7-10 day transit time.
DDP ePacket (Canada only): average 9-12 day transit time.
*shipping costs are estimated based on the weight of 1-3 items
1% Donation
Earth Runners are inspired by ancient huarache running sandals. We are grateful to the Tarahumara for originating this design and feel fortunate to have the ability to give back and honor the creators of the huarache running sandal.
We donate 1% of all sales to True Messages, a non-profit focused on honoring the running heritage that remains so important to the Rarámuri culture. True Messages listens to the input of the local National community to determine where to allocate resources which includes sponsoring races, trail projects, and initiatives to support the youth of the community.

Thank you for helping us support the Tarahumara!