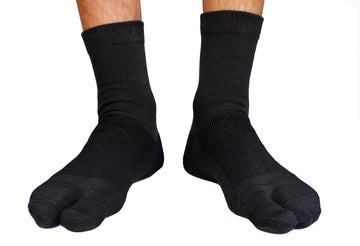 Cruelty-Free Wool Tabi Socks - Black
Ship Date
Order within
Ships
Our Merino wool socks allow you to not only survive during the winter, but thrive!
We have been designing tabi sandal socks for 5 year now and we are quite excited about the developments we have come up with to make these wool tabi socks even better! The midweight Merino wool blend offers superior thermo-regulating properties without sacrificing performance. 
Fiber content: 53% Cruelty-Free Merino Wool, 30% Nylon, 12% Acrylic & 5% Lycra Spandex.
If it's dry, our wool blend tabi 

socks

 can keep your feet comfortable down to well below freezing.
Care: Machine wash gentle. Hang dry.
*Note: Color variation in reinforced areas (toes, ankle) is normal.
 **Please note, opened socks are non-refundable (no one wants used socks!).
We proudly donate 1% of all sales to True Messages, a non-profit focused on honoring the running heritage of the Tarahumara culture and supporting the youth of the community.

Sizing
USA
UK
EUR
SOCK SIZE

4M 6W

3
36
SMALL

4.5M 6.5W

3.5
36

5M 7W

4
37

5.5M 7.5W

4.5
37.5

6M 8W

5
38

6.5M 8.5W

5.5
39

7M 9W

6
39

7.5M 9.5W

6.5
40

8M 10W

7
41
MEDIUM

8.5M 10.5W

7.5
41

9M 11W

8
42

9.5M 11.5W

8.5
43

10M 12W

9
43

10.5M 12.5W

9.5
44

11M 13W

10
44.5
LARGE

11.5M 13.5W

10.5
45

12M 14W

11
46

12.5M 14.5W

11.5
46

13M 15W

12
47
Shipping
Your order will ship out via USPS within 3-7 business days of receiving it. All orders placed by Monday 7am Pacific will be shipped Thursday. Orders placed by Thursday at 7am Pacific will ship Monday. Any changes to your order must be requested within 48 hours of placing your order.
All sandals are made to order in our Sonoma County workshop. *Please note we cannot guarantee changes made to your order 24 hours after it has been placed*
Domestic:
First Class Mail

cost $3-5 and takes 3-5 days for delivery from ship date.

Priority Mail

(flat rate) cost ~$7 and takes 2-3 days for delivery from ship date.

Priority Mail Express

(flat rate) cost $22.38 and takes 1-2 days for delivery from ship date.
International:
We ship worldwide with Delivered Duty Paid (DDP) shipping options to help avoid unpredictable customs fees and shipping delays. Shipped via FedEx, DHL & postal mail, taxes & duties included. Learn more here.

DDP Priority: average 9-14 day transit time.
DDP Express: average 7-10 day transit time.
DDP ePacket (Canada only): average 9-12 day transit time.
*shipping costs are estimated based on the weight of 1-3 items
FAQ
Do the Tabi socks run big?
When you first get a new pair of our Tabi socks they may seem a bit larger than expected, but after their first wash and dry they shrink a considerable amount. 
Do you recommend washing the socks before wearing them?
Yes, similar to most new textiles it's good practice to wash them before use for ultimate comfort. We recommend trying on the socks before washing them to confirm they are a good fit while keeping in mind that they will shrink as discussed above. *Socks that have been washed will not be accepted for returns. 
How do I wash my wool tabi socks?
To ensure the longest lifespan for your 'virgin' Earth Runner wool socks hand wash with wool soap (Woolite), then air dry.
What is your sock return policy?
We accept returns and exchanges on unworn socks in the original packaging purchased within the last 60 days. Please note that no exchanges can be made on final sale items. Earth Runners will only assume shipping charges on returned products that are defective in craftsmanship or the result of a shipping error. Once the socks have been received in our warehouse, a credit will be issued to the original payment method for the item(s) amount, less shipping and handling.
What are the pros and cons of loose fit socks versus a snug fit?

Slimmer snug fit *our recommendation


Pros:
Offers a slimmer and more streamline look. 
Smaller socks will stretch to accommodate nearly any size foot.
Cons:
May compress, restrict and slide down the foot a bit.
Reduced insulation due to less material surrounding the foot.
Larger loose fit

Pros:
More insulation from the additional material surrounding your foot.
Less restriction and chance of the socks sliding down. 
Cons:
The socks may bulge a bit in areas where there is less tension.
Smaller snugger fitting socks
1% Donation
Earth Runners are inspired by ancient huarache running sandals. We are grateful to the Tarahumara for originating this design and feel fortunate to have the ability to give back and honor the creators of the huarache running sandal.
We donate 1% of all sales to True Messages, a non-profit focused on honoring the running heritage that remains so important to the Rarámuri culture. True Messages listens to the input of the local National community to determine where to allocate resources which includes sponsoring races, trail projects, and initiatives to support the youth of the community.

Thank you for helping us support the Tarahumara!